Carry E-Labour Card at Home: Government of India has launched various schemes for unorganized workers, one of them is E-Labour Card Scheme, Here is the necessary information about E-Labour Card Scheme, Identity proof for unorganized laborers. as given with a unique number.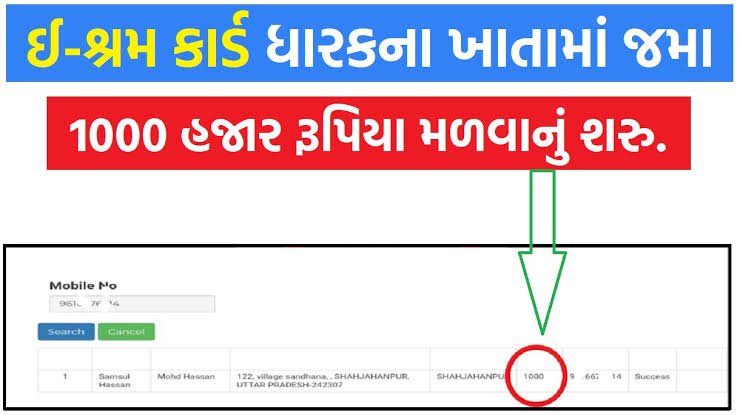 Bring e-Shram Card and sit at home
Department Ministry of Labor and Employment
Post Title E Issuance of Labor Card at Home
Age Limit 16 to 60 years
Registration Mode Online
Website https://eshram.gov.in/
Bring e-Shram Card and sit at home
Now is the age of technology, so we don't need to rush to the office or any office for many tasks, now most of our work is done at home through our smartphone or computer, here we are getting information about e-labor card, also online registration. We can do it sitting at home through mobile only
Eligibility for issuance of e-Labour Card
Age 16 years to 60 years
Workers should not be paying income tax
Workers should not be covered under PF.ESIC.
Benefits of issuing e-Labor Card
E-Labour Card will be valid all over India
In case of accidental death Rs 2 lakh is eligible
In case of partial disability Rs 1 lakh is eligible for one year
During epidemics it will be easy to get help from central government or state government
Who can apply for e-Labour Card?
1 Agricultural laborers
2 Animal husbandry
3 Health service
4 Asha worker
5 Anganwadi worker
6 Mid-day meal worker
7 Sweeper
8 Toy maker
9 Welding worker 10
Boot policeman 11
Hair dressing
12 Laundry work 13
Soil work 14
Domestic work
15 Small industries
16 Security service
17 Rickshaw drivers
18 Tailors
19 Construction workers
20 Feria vegetable sellers
21 Lorry galla drivers
22 All other small businesses
List of documents required for issuance of e-Labour Card
aadhar card.
Mobile number linked up with Aadhaar card
Bank Passbook.
How to register?.
Registration can be done by going to the e-gram center
Note: Free Labor Card ( UAN ) is eligible
Important link
Shram Card Registration Online Gujarat 2023
ઈ શ્રમ કાર્ડ માટે રજીટ્રેશન કંઈ રીતે કરાવવું જોવા માટે અહી ક્લિક કરો
ઈ શ્રમ કાર્ડ ડાવુનલોડ કંઈ રીતે કરવું તેના માટે અહીં ક્લીક કરો
ઈ શ્રમ કાર્ડ માટે ઓનલાઇન અરજી કરવા માટે અહીં ક્લિક કરો
ઈ શ્રમ કાર્ડ અંગે ગુજરાતીમાં માહિતિ માટે અહીં ક્લિક કરો
Registration and Apply Click Here
E Shram Card List 2023 Click Here
■ Which is the official website for issuance of E Shram Card? .

Website https://eshram.gov.in/ 

■ What is the helpline number to get necessary guidance for e Shram Card? .

Helpline number 14434