Amend Aadhaar Card online.
Amending Aadhaar Card: Now all people can make five amendments online in Aadhaar Card Change online address in Aadhaar Card Change Language of Aadhaar Card Amend Name in Aadhaar Card Change Date of Birth in Aadhaar Card Change Gender in Aadhaar Card These five amendments can be done at home through mobile..
Amend Aadhaar Card .
Post Name Amend Aadhaar Card Online Number of Amends .
5 .
Amends Organization Approved as UIDAI
Proof .
Official Website https://myaadhaar.uidai.gov.in/
Amend Aadhaar card in just two minutes.
Current time means rush time Aadhaar card update people are at work so they can't go to Aadhaar card center to update Aadhaar card, so now facility is provided that you can do five Aadhaar card updates online even through mobile, let's see all the detailed information..
Now there is no need to go to the Aadhaar center to update the Aadhaar card, you can do these five updates from your mobile at home.
Change address in Aadhaar card online.
In present time village people move to city and people move to other place then you can correct address online in aadhaar card you can correct address online or offline..
Online name correction in Aadhaar card.
When there is a mistake in the name while issuing the Aadhaar card, then you can now correct the name in the Aadhaar card online, only small corrections can be made through your mobile..
Online correction of date of birth in Aadhaar card.
If there is a mistake in your date of birth while issuing aadhar card, now you can correct the date of birth in aadhar card online that too from your mobile at home..
Online language correction in Aadhaar card.
Language in Aadhaar card can be modified through your mobile.
Online caste correction in Aadhaar card.
If there is a mistake in your gender in Aadhaar Aadhaar card, you can correct it online at home using your mobile like Male Female Other.
Necessary documents for Aadhaar card correction and addition.
તમારા આધાર કાર્ડ સાથે તમારો કયો મોબાઈલ નંબર લીંક છે, ઓનલાઈન ચેક કરવા અહીં ક્લિક કરો
Following documents are required for correcting address in Aadhaar card or correcting name in Aadhaar card.
ખોવાયેલ આધારકાર્ડ આ રીતે મેળવો
Passport .
Ration .
Card Election Card .
Driving License .
Government Photo ID Service Identity Card Pension .
Card Freedom Fighter Card .
Kisan Passbook .
CGHS or e chs or esic or Medical Claim Card issued with photo by State or Center or PSU or Medical Claim Card .
Disability ID .
Electricity Bill .
Water Bill .
Telephone Landline Bill .
Property Tax Receipt .
Insurance Policy .
Other Proof.
Following is the list of documents required to correct date of birth in Aadhaar card.
Birth Certificate .
Passport
PAN Card .
Marksheet issued by any Government Board or University ..
Government Photo ID or Photo Identity Card issued by PSU bearing date of birth .
School Leaving Certificate.
Aadhar card amendment fee A fee of Rs 50 has to be paid for any amendment of Aadhaar card.
Learn step by step information on how to amend Aadhaar card online at home.
First Go to Official Website .
Click on Login Menu Button Enter .
Aadhaar Card Number and Captcha Code
Click on Send OTP Button .
OTP will be sent to mobile number registered with Aadhaar Card .
Enter six digit OTP and click on Login Button .
Now Update Aadhaar Online Click on the given option .
Now you will be able to do five types of corrections in Aadhaar card which will show you .
select one option from these five types of online corrections and proceed .
here we know the process of correction of .
online address After selecting the option of correction of address online process to update Aadhaar button Click above .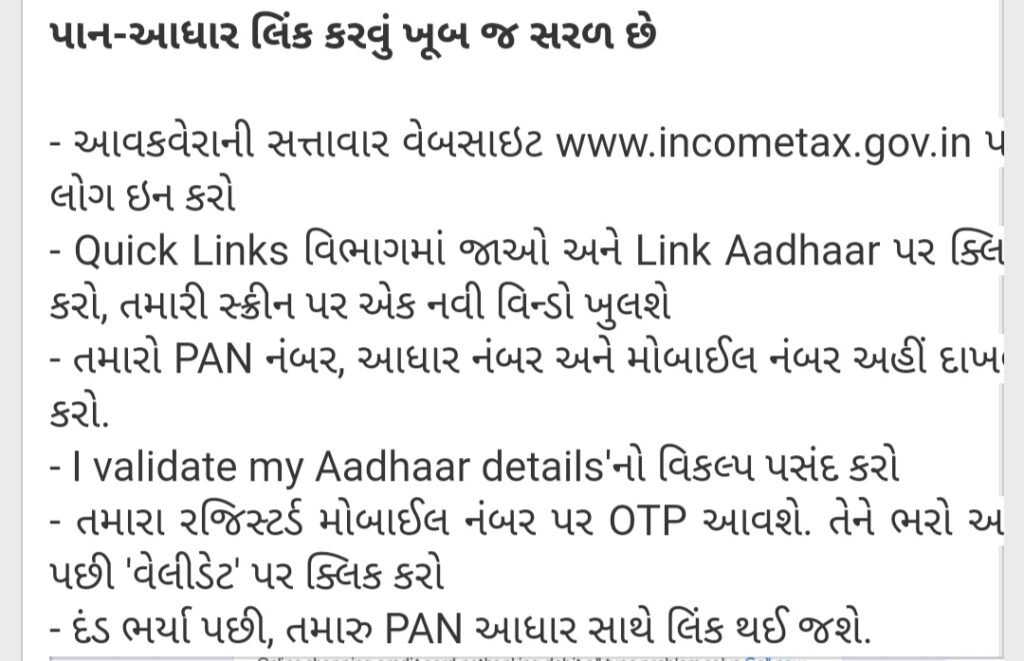 Important links
આધારકાર્ડ ને પાનકાર્ડ સાથે લિંક કરવા ઓફિશિયલ વેબસાઈટ માટે અહીં ક્લિક કરો

You will need to enter the information for your new address.
Documents have to be uploaded as proof which will be any one as above Now after submitting and filling the form your application will be verified After verification the address in Aadhaar card will be changed Above is the method of correcting the address in Aadhaar card online All other types of corrections can be done through your mobile at home Can be done, the information will remain the same.