Pandit Din Dayal Awas Yojana 2023: Under the Pandit Din Dayal Awas Yojana 2023 online forms have been started for the applicants who want to avail the benefits under this scheme have to apply from 01 May 2023 to 31 May 2023. You will get complete information about Pandit Din Dayal Awas Yojana through this article. Let's know the detailed information of this scheme and if the information is good then please kindly share more and more to everyone if anyone gets benefited then you will get merit of pointing fingers.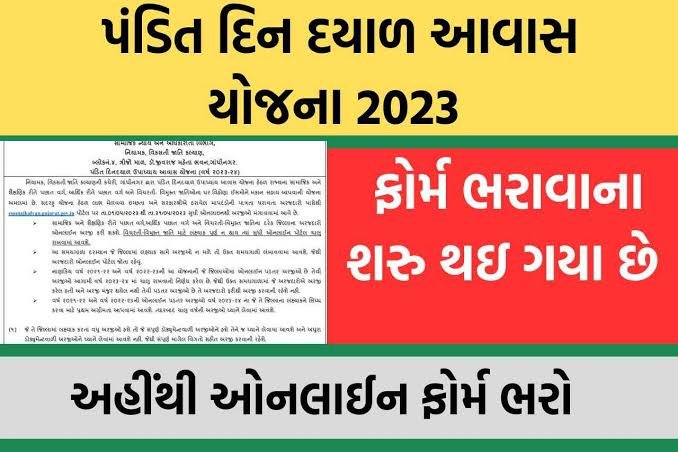 Pandit Din Dayal Housing Scheme 2023
Scheme Name Pandit Din Dayal Awas Yojana
Beneficiaries Socially and Educationally Backward Class, Economically Backward Class, Nomadic Exempt Caste Homeless Persons
Eligible Assistance 1,20,000/-
Application Date 31 May 2023
Income Limit 6,00,000
Mode of Application Online
Official Website esamajkalyan.gujarat.gov.in
Eligibility Criteria
To avail the benefit of this scheme, the income limit of the applicant has been decided to be 6 lakhs.
તારીખ લંબાવવા માં આવેલ છે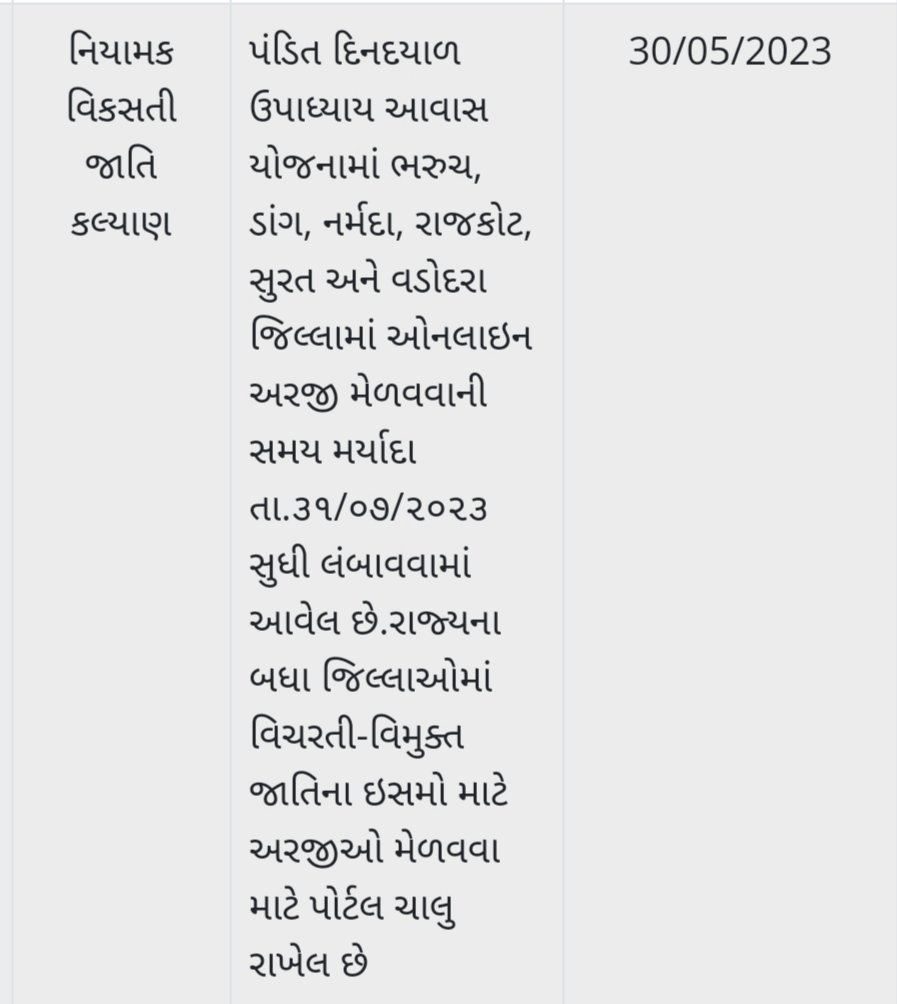 Standard of assistance
1,20,000/- in rural and urban areas is given Rs 1,20,000 for construction of houses to socially and educationally backward classes economically backward classes nomadic freed caste homeless people in cities and villages owning plots to overcome housing difficulties
Date of Application
Under the Pandit Din Dayal Awas Yojana, the applicant has to apply online till 31 May 2023. The applicant has to do this application only through online mode. To apply online, he has to visit the official website of Samaj Kalyan. Considering the interest of the applicant, the link to apply online of the official website is placed below
Income limit
Applicant's income limit should not exceed 6 lakhs to avail benefit under this scheme.
Documents to be presented
Applicants seeking assistance under Pandit Din Dayal Awas Yojana have to submit the following required documents: Caste / Sub Caste (Economically Backward Class applicants do not need to attach Caste) Living Certificate of the applicant (if educated) Proof of Residence of
the applicant.
Aadhaar card
Electricity bill
Driving license
Rent agreement
Election card
Ration card
Any one of the above
Income proof
Land ready house received under any poverty housing scheme Attested copy of allotment order Allotment letter
Land ownership Aadhaar document Acknowledgment certificate Hakapatra Sanad paper as applicable
Certificate issued by Village Panchayat Talati Cum Mantri / CT Talati Cum Mantri / Circle Inspector for granting housing assistance to the applicant.
Letter of permission to construct house
Copy of BPL copy of
husband's death copy of the land on which the house is to be constructed if the woman is a widow
Copy of the map showing the area of ​​the land on which the house is to be constructed (signature of Talati Cum Mantrishri)
Passbook Cancel cheque
Photographs of the applicant
To apply online
Applicants who want to avail the benefits under this scheme have to visit the official website https://esamajkalyan.gujarat.gov.in and apply online till 31 May 2023