Gyan Sadhana Scholarship 2023: Many schemes have been implemented by the Gujarat government to help the less fortunate and gifted students in their studies, one such new scheme has been announced by the government which is the Gyan Sadhana Scholarship Scheme. Aid scholarship is given every year, you will get complete information about this scheme through this article, so let's know detailed information about this scheme.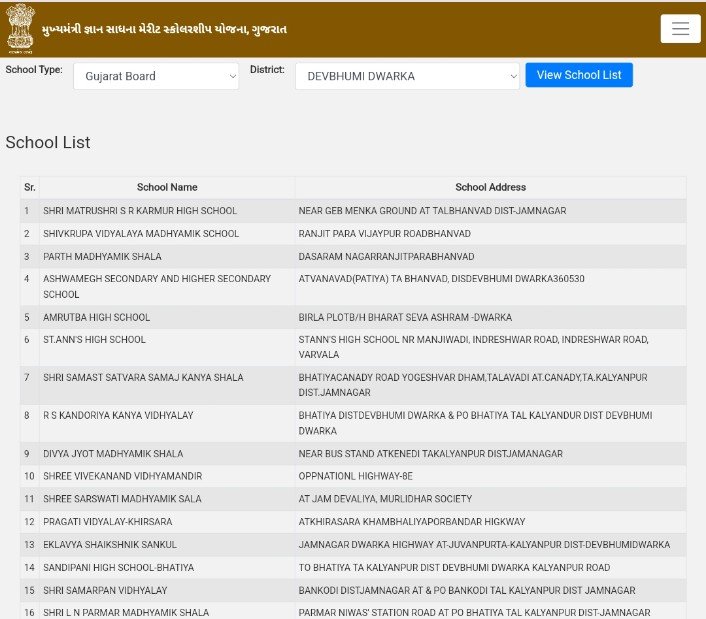 Gyan sadhana scholarship 2023
Scheme Gyan Sadhana Scholarship Scheme
Department Education Department
Beneficiary Class 8 Passed Students
Scholarship ◆20,000 thousand rupees per annum in standard 9 and 10
◆25,000 thousand rupees per annum in standard 11 and 12 Scholarship
Application Type
Last Date to Fill Online Form 26/05/2023
Exam Date 11/06/2023
Facial Website www.sebexam.org
eligibility
The benefit of Gyan Sadhana Scholarship Scheme will be given to the students through the examination. The examination will be conducted under this scheme on 11th June 2023 and the students who qualify the examination will be selected for the scholarship on the basis of merit
અગત્યની લીંક
જ્ઞાન સાધના પરીક્ષા પસંદ થયેલ જિલ્લા વાઇસ શાળાઓ નું લીસ્ટ જોવા માટે અહીં ક્લિક કરો
Eligibility Criteria
Must have studied Class 1 to 8 consecutively in a Government or Granted Primary School and passed Class 8 or must have
studied up to Class 8 in a dependent school under the Right to Education Admission Scheme and studied up to Class 8
Examination Fee
There is no fee of any kind for taking the exam under this scholarship assistance scheme
Exam Structure
The selection of students in the Gyan Sadhana Scholarship scheme will be done through an examination in which the structure of the examination will be as follows. The question paper of this examination will be of 120 marks and the time will be 150 minutes. The
question paper of
the examination will be in Gujarati / English language
Mark the test questions
MAT Intellectual Aptitude Test 40 40
SAT Intellectual Aptitude Test 80 80
Scholarship amount assistance
Under this scheme, the student is eligible for the following scholarships: In class 9 and 10, students are eligible to receive a scholarship of Rs.20,000 per year .
Selection process
The selection process of the students for this scholarship scheme is as follows first the student has to fill the form for this scholarship exam
then the provisional selection list will be announced based on the cut merit through the test
then document verification will be done at the district level
finally the final merit list and selection list will be released.
Online Application Process
To fill the online form for Gyan Sadhana Scholarship, firstly go to the official website of the State Examination Board www.sebexam.org, click on
Apply Online
Now select Gyan Sadhana Aptitude Test,
a form will open in which the student must enter the Aadhaar UDI number. Necessary information will come.
Submit other required information and upload photo and signature of the students
Check the filled form carefully and click on final submit button
Following the above steps you will successfully fill your form online
In the interest of the students the official website link to apply online is given below is located
Important Link
જ્ઞાન સાધના પરીક્ષા આન્સર કી માટે અહી ક્લિક કરો
જ્ઞાન સાધના પરીક્ષા પેપર માટે અહી ક્લિક કરો
ઓનલાઇન રજિસ્ટ્રેશન કરવા માટે અહીં ક્લિક કરો
જ્ઞાન સાધના શિષ્યવૃતિ જાહેરનામું જોવા માટે અહીં ક્લિક કરો
જ્ઞાન સાધના પરીક્ષા તારીખ અંગે નો લેટર અહીંથી વાંચો
જ્ઞાન સાધના પરીક્ષા ની હોલ ટિકિટ અહીંથી ડાઉનલોડ કરો
જ્ઞાન સાધના શિષ્યવૃતિ લેટેસ્ટ પરીપત્ર જોવા માટે અહીં ક્લિક કરો
જ્ઞાન સાધના શિષ્યવૃતિ અંગે ગુજરાતી માં માહિતિ માટે અહીં ક્લિક કરો
જ્ઞાન સેતુ શિષ્યવૃતિ લેટેસ્ટ પરિપત્ર અહીંથી વાંચો