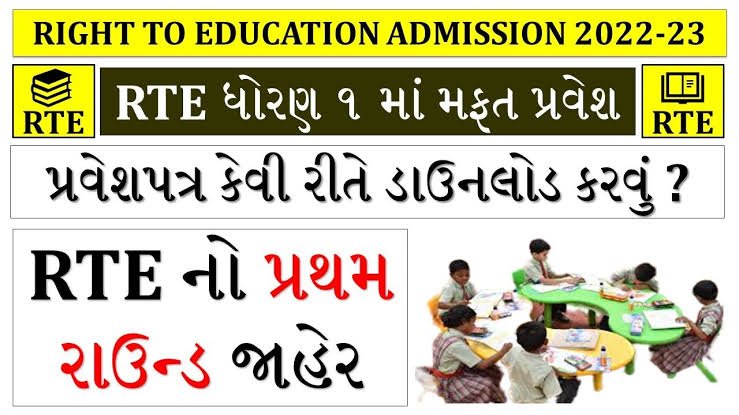 RTE Admission 2023: Every parent dreams of getting their children educated in a good school and beyond, but due to the current inflation and exorbitant fees of private schools, many middle class and poor people cannot afford to send their gifted children to their preferred school, and they have to The pain remains in the mind all the life of the matter. A scheme has been implemented in the education sector by the government to enable middle and poor class students to get admission in good schools of their choice and pursue further education. This scheme stands for RTE (Right to Education). The biggest scheme in the education sector is Right to Education, under this scheme children are given free education from class 1 to 8 in private schools. RTE Admission is released every year by the Govt. When will RTE Admission 2023 forms be filled for the current year 2023? What is the process of RTE Admission? And who can get benefit in RTE Admission? Detailed information about all that is given here. So every parent is kindly requested to read the article till the end and share further
IMPORTANT LINK :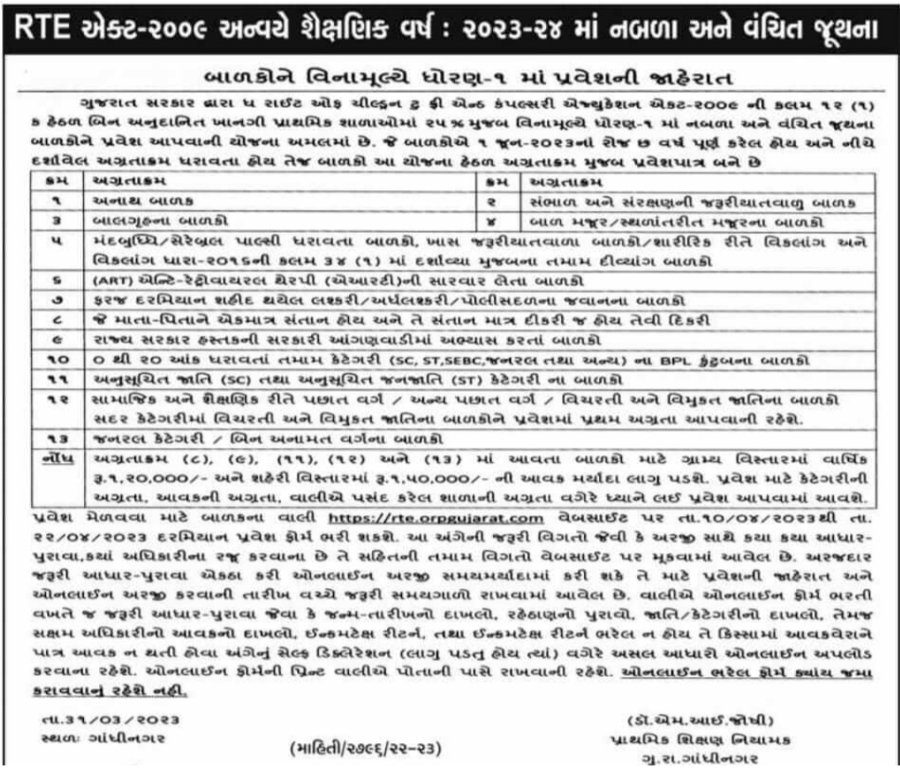 RTE એડમિશન 2023 ઓનલાઈન ફોર્મ ભરવાની તારીખ જાહેર: સંપૂર્ણ માહિતી વાંચો અહીં ક્લિક કરો
RTE Admission 2023
Department Education Department
Post Title RTE Admission 2023
Scheme Name Right to Education
Eligible Benefits Totally Free Study in Private Schools from Class 1 to 8 Apart from Scholarship of 3,000 per year)
Website https://rte.orpgujarat.com/
Free admission in private schools
Under this scheme by Sarkarshree, free admission is given to poor and weaker section students in class 1 every year in every private school on 25% of its total seats. Under this scheme, the private school in which the student gets admission is provided free of charge education from class 1 to 8, that is, the student's parent will not have to pay any fee for education from class 1 to 8 to the private school. Apart from this, 3,000 scholarship will also be given to the student every year from class 1 to 8.
When to fill RTE admission form?
Every year, the process of RTE admission is usually started by the education department in the month of April, in which the students are given admission under this scheme by the vacation opening in the month of June, for the current year 2023, the official announcement has not been made by the government yet, the possibility There are possibilities that the process will start in the month of April. All the parents who have to apply for their children under this scheme should visit the official website of RTE Admission regularly, so that when the form filling date and RTE admission process are announced by the government, they will get the information immediately and get their information on time. Children can fill the form.
IMPORTANT LINK :
Know RTE Admission Complete Process
The complete process of RTE Admission is as follows phase wise every year the complete admission process for RTE admission process is announced by the education department in the news papers in the month of April Official
website https://rte.orpgujarat.com/ in the RTE admission dates announced by Govt. Online form has to be filled in.
After filling the online form, this form is not deposited anywhere in hard copy, but the online form is verified by the district office only on the online website
.
After completion of form filling and form verification, merit list is prepared through software and RTE admission rounds are released based on merit .
Students selected in RTE admission round have to download the admission letter online and go for admission to the school from the selected school list.
RTE Admission ની સંપૂર્ણ પ્રોસેસ નીચે એક ફોટામાં આપવામાં આવેલી છે જે આપ જોઈ શકો છો અને સરળતાથી સમજી શકો છો
List of documents required for RTE Admission
Proof of residence
Aadhaar Card / Passport / Electricity Bill / Water Bill / Election Card / Ration Card (any one) In
case none of the above residence proofs are available, registered rent agreement should be given as proof of residence (noto rise rent agreement will not be valid here Gujarat stamp A lease agreement registered as per Act 1958 shall be deemed valid).
Caste certificate of guardian
Guardian's caste certificate (issued by Mamlatdarshree or Social Welfare Officer, Taluka Development Officer or Competent Authority).
Example of child's date of birth
Gram Panchayat / Municipality / Metropolitan Municipality / Hospital Registration Certificate / Anganwadi / Kindergarten Registration Certificate / Notarized Affidavit of Parent or Guardian.
Photographs
Two passport size color photographs.
Income certificate of guardian
Basis of being in BPL list (0 to 20 score)
Parents falling in BPL category from 0 to 20 marks will have to produce the example of Taluka Development Officer or Director District Village Development Agency for rural area
while in case of urban area / Municipal Corporation Deputy Municipal Commissioner or the competent authority authorized by the Municipal Corporation has to produce the example of
Chief of Municipality in municipal area. Officer's copy and chief executive officer or administrative officer in the notified area has to produce the
BPL category beneficiary list in urban areas with score 0 to 20. Beneficiary included in the BPL list in the area has to produce the BPL list number certificate of the competent authority.
BPL Ration Card will not be accepted as BPL Aadhaar.
Nomadic Emancipated Tribes : Certificate from Mamlatdar Shri or Social Welfare Officer, Taluka Development Officer or Competent Authority
Orphan Child : Certificate from Child Welfare Committee of that District
Child in Need of Care and Protection : Certificate from Child Welfare Committee of that District
Child Home Children : Child from that District Certificate of Welfare Committee
Children of Child Labor Migrant Labourers: Certificate of Labor Officer of the District Labor and Employment Department
Children with Cerebral Palsy: Certificate of Civil Surgeon
Children with Special Needs (Divyangal) : Certificate of Civil Surgeon (minimum 40%)
Children undergoing anti-retroviral therapy treatment: Civil Surgeon's Certificate
Children of Martyred Soldiers: Instance of Competent Officer of the Account concerned
Only daughter in the child: For any category Talati Rank Minister in rural area Chief Officer in Municipal area and Competent Officer in Metropolitan area having only one daughter (single girl child) Children studying in Anganwadi should have studied in Government Anganwadi for at least two years and
icds The students whose names are registered on the cas web portal, the students who have studied in that Anganwadi shall
submit an attested copy of the concerned Anganwadi worker or the competent authority as determined by the Government from time to time. Copy of parent's Aadhaar card
Bank details Copy of child's or parent's bank account passbook.
IMPORTANT LINK :
RTE Admission 2023 લિંક.