NAMO Tablet Yojana 2023: Gujarat Tablet Yojana 2023 : Know Full Details: NAMO Tablet Yojana is implemented to promote Digital India campaign Under this scheme free tablets are provided to first year college students under Gujarat Namo Tablet Yojana worth ₹1,000 Will be provided at a subsidized price Under this scheme good quality tablets will be provided to the students studying in the college by Govt
NAMO ટેબલેટ યોજના 2023: ગુજરાત ટેબલેટ યોજના 2023 . માહિતી વાંચો ગુજરાતી માં , અહીં ક્લિક કરો
NAMO Tablet Scheme 2023
Post Name Gujarat Tablet Yojana 2023
Name of Yojana Gujarat Namo e Tablet Yojana
Who can benefit from this scheme Students studying in college
The main objective of the scheme is to make education more technology enabled
Department of Education Gujarat State
Yojana Benefit under Rs 1000 only Tablet
Website digitalgujarat.gov.in
Gujarat Tablet Scheme 2023
Under the Gujarat Namo e Tablet Yojana, this scheme has been implemented mainly in Gujarat by the Government of Gujarat in order to bring good quality to the students studying in the first year of college or higher studies and to raise the educational level by making full use of technology. There is a plan to provide good quality tablets to students for just 1000 rupees
The main objective of the scheme
The plan is to provide college or higher education students with a good quality tablet worth around 8,000 at a very nominal price of just 1000 rupees.
Gujarat Tablet Scheme Eligibility
The student should be a native of Gujarat
The student should be studying in sem 1 of the college
The total annual income of the student's family should not exceed one lakh rupees
The applicant student should come below the poverty line
The applicant student should have taken admission in any college in Gujarat in the first year of any course of under graduate
List of documents required for Gujarat Namo e-tablet scheme
Applicant's Aadhaar Card
Applicant's Election Card
Class 12 Pass Certificate Certificate
of Admission to First Year Sem One of College for Graduation Course or Polytechnical Course
Applicant's Ration Card
Applicant's Caste Certificate
Application Process
In the same college where the student is studying, the student will have to fill the form for Gujarat Tablet Yojana in which the applicant students will have to deposit ₹1,000 which is the charge for the tablet after which the college will provide the tablet to the applicant student.
અગત્યની લિંક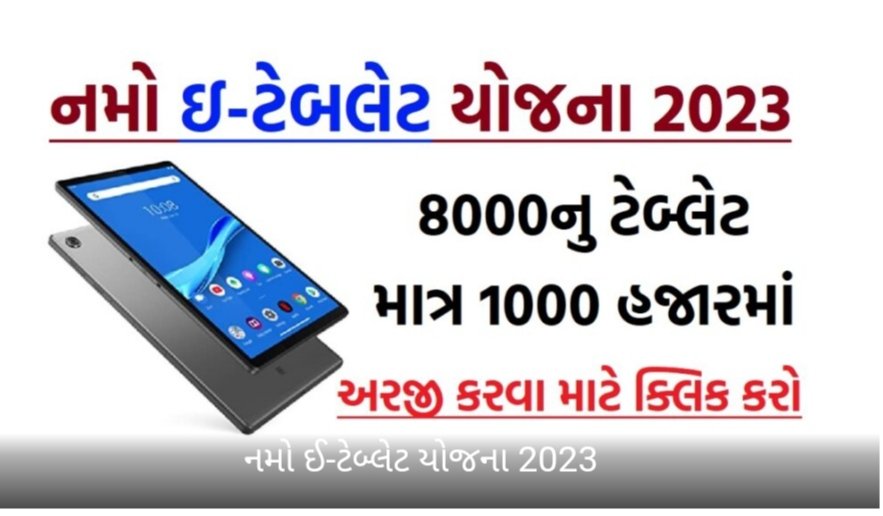 Frequently Asked Questions FAQs
Q1 What is the helpline number for Gujarat Namo e Tablet Yojana?
079 2656 6000 (11:00 am to 5:00 am)

Q2 Who will be benefited under Gujarat Namo e Tablet Scheme?
for first year college students

Q3 What is the official website of Namo e-tablet scheme ?
digital gujarat portal