iKhedut portal 2023: Gujarat government is running several subsidy schemes for farmers, online applications have been launched on iKhedut portal for farmers to grow various crops and purchase equipments like tractors, pump sets etc. For Subsidy I Farmer Portal 2023 has been opened for making online applications.
iKhedut portal 2023
Scheme Ikhedut Portal Subsidy Schemes
Horticulture Scheme Gujarat
Implementation Gujarat State Government
Objective of the scheme To increase cultivation of horticultural crops
Department Name of Agriculture Farmers Welfare and Cooperation Department Gujarat State
Application Type
Beneficiaries Gujarat State Farmers
Official to Apply Portal ikhedut.gujarat.gov.in
Horticulture Department Support Components
Online applications for various components of Horticulture Department for the year 2023-24 have been started on iKhedut portal. Here the farmers can apply online for the following components.
આઈ ખેડૂત પોર્ટલ : ખેડૂતો 7 ઓગષ્ટથી વિવિધ સહાય યોજના માટે ઓનલાઈન અરજી કરી શકશે
Intensive Fruit Planting
Mission Bee Program
Dragon Foot Cultivation Assistance
Green House
Plug Nursery / Protection Net Primary
/ Mobile / Minimum Processing Unit
Women Trainee Wathida
Additional Cultivation Expenditure Fruit Crop
Tissue Culture Kharekni Cultivation Assistance
Hybrid Vegetable Planting
Loose Full Crop
Plantain (TSU) and Papaya
Raw / Semi-ripe / Ripe Mandap
Renovation of Old Gardens
Plastic Covering Mulching
Dom Comprehensive Horticulture Development
Tractors up to 20 PTO HP
Power Tillers above 8 BHP
Tractor Mountain Operator Prayer
Drip Irrigation Water Tanks
Establishment of New Tissue Culture Lab Writing Chamber
Cold Storage
Technology Induction and Modernization of Cold Chain
List of documents required for application.
Copy of farmer's land Copy of 7 – 12, 8-A
if resident of forest area Copy of Tribal Land Record
Ration Card Copy of
applicant's Aadhaar Card Copy of
bank account passbook
Scheduled Caste and Scheduled Tribe certificate (if any)
Applicant with disability if disabled Certificate regarding
the farmer's land if jointly owned consent form of other tenants if
member of co-operative society its details
if member of milk producer society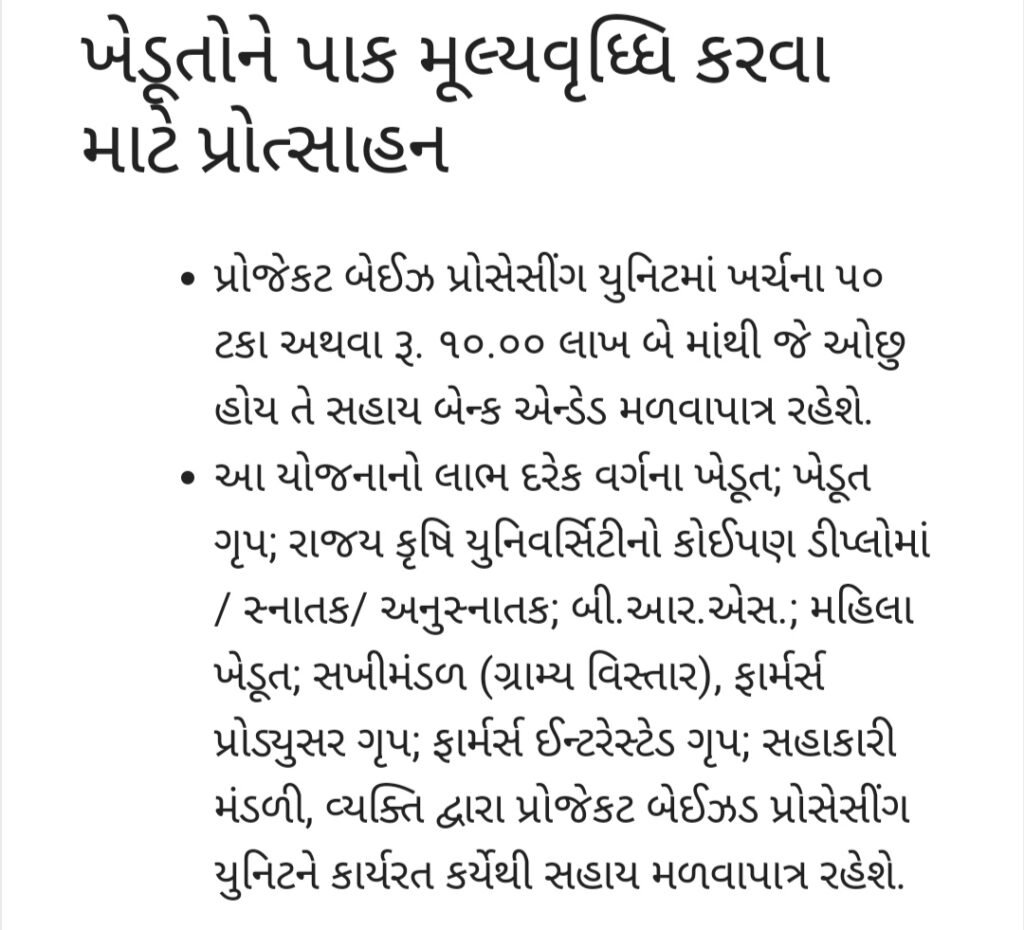 અરજી કરવાની પ્રોસેસ સમજો
Online Application Process
For the year 2023-24, the portal has been opened to apply online for various subsidy schemes of Horticulture Department on iKhedut portal, for this contact VCE in your village Gram Panchayat. If you want to apply manually, you can apply online by following the steps below in your mobile or computer.
Firstly go to the official website of I Khedut to apply online. It will show a list of various components for Horticulture Department
schemes
. Read all the conditions of what you want to do carefully
then click on the "Apply Online" option given in front of it
First fill in the details like your name, address, mobile number etc. in
the next option submit your details as a tenant farmer
Finally read your entire application carefully and Submit the final
If the name of the bank in which your bank account is not found in the list, contact the nearest horticulture office. While
saving the application, if the application number
is
not generated, read the message in the above line of instructions. The application should be printed out and
submitted along with the required documents at the Horticulture Department office of your district
While every farmer friend is waiting to apply online for ikhedut subsidy schemes, online application for these various schemes can be done till 31 May 2023, in which farmers especially for tractor assistance are the most applied
અરજી કરવા માટે અગત્યની લિંક