Electoral Roll Reform Program 2023: We have many documents, election card is one of the important documents. The election commission announces reform program two to three times a year to make changes related to election cards. For the current year 2023, this program will be held tomorrow i.e. from 5th April 2023 to 20th April 2023.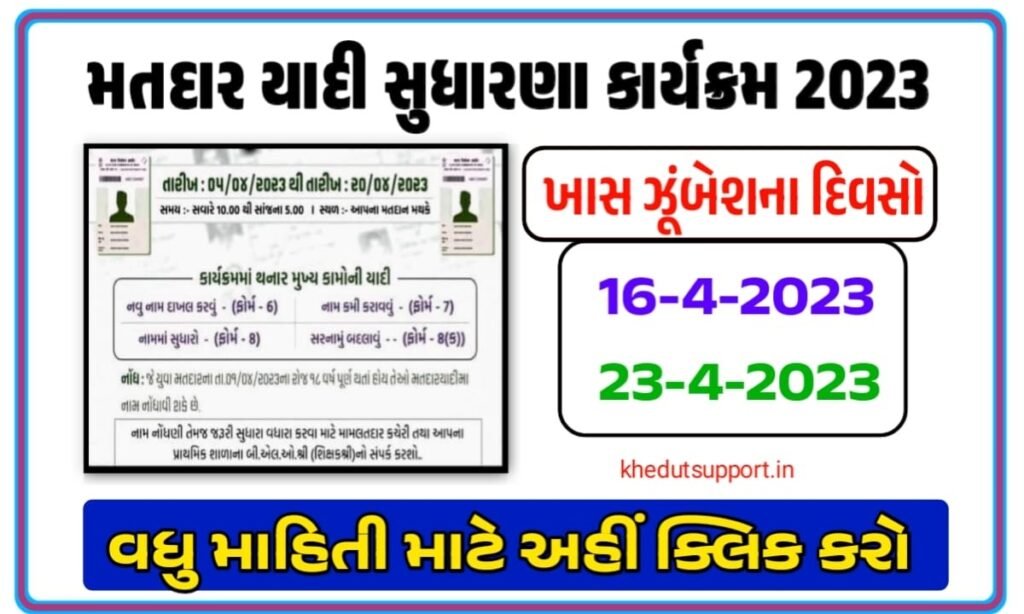 મતદાર યાદી સુધારણા કાર્યક્રમ 2023 સંપૂર્ણ માહિતી ગુજરાતીમાં વાંચવા માટે અહીં ક્લિક કરો
Electoral Roll Reform Program 2023
Program Electoral Roll Reform Program 2023
Date 5 April 2023 to 20 April 2023
Operation To enter new names and make corrections in the Electoral Roll
Contact Your Area BLO
Website https://www.nvsp.in/
https://sec.gujarat.gov.in /
Voter list operation
Electoral Roll Brief Reform Program has been announced in which various works related to Electoral Roll can be done which are as follows.
Entering New Name
Reducing Name Correcting
Name
Changing Address
Electoral Roll Correction Form
For Electoral Roll Reform Program 2023 different forms have to be filled for different operations which are as follows.
Entering a new name
Form No. 6 has to be filled to enter a new name in the electoral roll can be filled by those completing 18 years on 1.4.2023.
Name reduction
Form No. 7 has to be filled if the name is to be removed from the voter list for any reason.
Correcting the name
Form No. 8 has to be filled if any correction is to be made in your name surname etc.
Change of address
Form No. 8-K has to be filled for changing the old address in the voter list and entering a new address.
All the above forms are available by contacting your area BLO during these working days..
In which 15 days from 5th April i.e. till 20th April 2023 voters will be able to submit claims and objection petitions. Claim objection applications will be disposed of by April 28. In respect of the date of qualification of 1st April 2023 special brief revision program of voter list with photo has been announced, last date of publication of voter list will be on 10th May Portal for online
revision.
Online facility is also available for electoral roll correction and related work. Apart from this, one can also apply for registration as a new voter by filling Form No. 6 through Voter Helpline Mobile App, Election Commission's National Voter Service Portal. Also, the applicant can also verify whether his name and his family members are in the voter list. And if there is any amendment, the amendment can also be done by filling the online form. All the necessary links are given below, you can update online from here and also fill online form to enter new name..
Electoral Roll Reform Program 2023 Special Campaign Days
Special campaign days are fixed on these dates under the Electoral Roll Reform Programme. These days the BLO of that area sits at this polling booth all day long, and accepts electoral roll correction forms. For this, the detailed information about the documents to be attached etc. is available from the BLO..
અગત્યની લીંક