E-Scooter Sahay Yojana 2023: Many assistive schemes have been implemented by the government for the disabled, including E-Scooter Sahay Yojana, Free Travel Scheme in ST Bus etc…. Government of Gujarat has given assistance of Rs 25,000 on purchase of electric scooters for this year 2023-24. When will the forms of this scheme be filled? Which document is required? Where to go to fill the form? etc. You will get all necessary information through this article. So let's know the detailed information.
ઇ સ્કૂટર સહાય યોજના ની સંપૂર્ણ માહિતી ગુજરાતી માં વાંચવા માટે અહીં ક્લિક કરો
Who will benefit from this scheme?
Following are the eligibility criteria for availing this scheme Beneficiary age should be between 18 years to 50 years Beneficiary should have 40% or
more disability ( Orthopedic Disability)
0 to 20 in BPL list Beneficiary having score is eligible to avail the benefit of this scheme.
Disabled person should have a valid disabled identity card of Social Security Department.
List of documents required to avail the scheme
Honorable Disability Identity Card
Copy of School Living Certificate Copy of
Civil Surgeon showing Disability Percentage Copy
of Aadhaar Card Copy of
Bank Account Passbook
Plan to purchase e-scooters for the disabled.
Under this scheme every financial year by publishing advertisement from the state level, the applications of disabled applicants will be called at the district level. The
authority to approve the applications received at the district level will be the District Social Security Officer and payment of assistance to the approved Bharti as per the availability of grant of that district District Social Security Officer Shri. The beneficiary will have to purchase the scooter within 30 days but if the District Social
Security Officer deems fit after checking the financial circumstances of the applicant, such period can be extended up to a maximum of 60 days.
Beneficiary will have to pay from the agency's authorized dealer from his/her own funds and submit the original bill of purchase and a photograph confirming the scooter.
After that the assistance received Rs 25000 will be paid to the beneficiary from DBT at the district level by the District Social Security Officer to the bank account of the beneficiary
2023 24 From 1/4/2023 the complete implementation of this scheme has to be done through online portal i.e. online form filling for this scheme will start on its official website after 1 April 2023
અગત્યની લિંક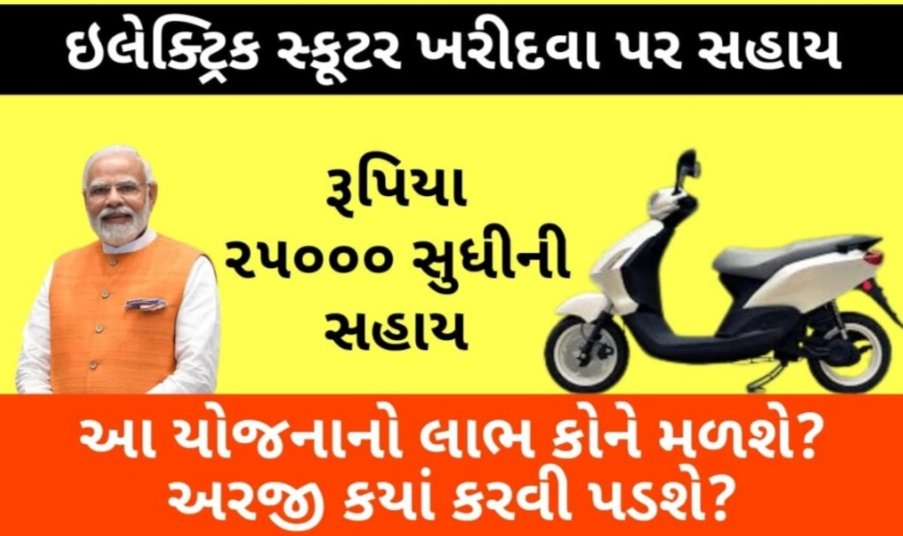 E Scooter Sahay Yojana E Scooter Sahay Yojana 2023 Online form when will start?
1 april 2023
Who is eligible to benefit from this scheme ?
  Orthopedic Disability
How much assistance ?
Rupees 25000