Education Assistant Recruitment 2023 Navsari Ashram School Recruitment 2023 Read Official Notification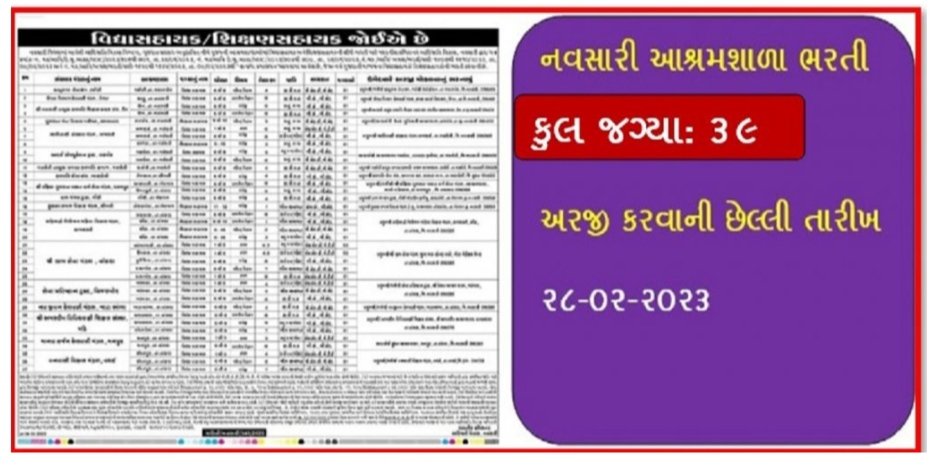 Education Assistant Recruitment 2023 Education Assistant Recruitment 2023 Tribal Development Department in Navsari District Donor of Gujarat Government for the recruitment of Education Assistant and Education Assistant in the following ashram schools through Assistant Commissioner Tribal Development Navsari letter no. Mak/Avi/U.Bu.Asha/NOC/2023/696 to 001, dated 23/01/2023 no. Mak/Avi/Amash/Bharti/Vashi-1400 to 1610/2023 dated 09/02/2023 and no. No Objection Certificate is issued from Muk/09/02/2023 for the recruitment of Gujarati Medium Vidya Assistants or Teaching Assistants You are reading this article through our official website Maru Gujarat Recruitment.in Vidya Assistant Recruitment 2023 Institute Name
Navsari
Ashramshala
Name of Post Vidya Assistant and Education Assistant
Total Vacancies 39
Last Date to Apply 28 February 2023
Application Mode Register Post AD
Click Here for More Information
Post Name
Education Assistant Recruitment 2023 Vidya Assistant and Education Assistant
Educational Qualification
BA B Ed BSc BEd MA BED PTC
Age Limit
Not Mentioned in Advertisement
Pay Scale
Fixed Pay Govt. According to the policy, Vidya Sahayak will be appointed on a fixed salary of Rs 19,950 per month for five years, Rs 25,000 per month for Class 9 and 10 Teaching Assistants and Rs 26,000 per month for Class 11 and 12 Teaching Assistants Application Fee No Application
Fee
Other
Details
Teaching Assistant Recruitment 2023 candidate should have passed all the examinations required as qualification and TAT or TAT examination if applicable in the relevant subject prescribed by the State Govt Shri for the reserved posts by the candidate of that caste for the respective caste by the competent authority
. A copy of caste certificate provided and non-criminal certificate if applicable shall be enclosed
District Level Selection Committee shall be as prescribed by Govt.Sh. Selection Committee
after verifying the candidate's certificates the selected candidates will be appointed by the organization after confirmation by Assistant Commissioner Shri.
Salary scale
According to the government's fit pay policy, for five years, the teaching assistant will be appointed at a salary of Rs 19,950 per year, the teaching assistant of class 9 and 10 will be appointed at a salary of Rs 25,000 and the teaching assistant of class 11 and 12 will be appointed at a salary of ₹ 26,000. After receiving the regular appointment, the candidate will be eligible to get the benefit of Navvarshita Pension Yojana of Govt. If the service is not found to be satisfactory, the gap of service can be taken by giving one month notice even before five years
. The age of the candidate on the last day of application should be within
the age limit as decided by the Government Shri.
A government employee or an employee of a board or corporation or organization receiving a grant from the Government should include the objection certificate of the appointment and officer's NOC with the
application form . The employee has to perform the duty of house mother and the male employee as house husband. Every employee is required to stay at the Ashramshala for 24 hours. They will be provided with no accommodation facility from the authority.
The employees have to follow the general rules regarding education made by the tribal development department or the education department in the rules. The relevant rules of Mumbai Primary Education Act 1949 and Gujarat Secondary Education and Higher Secondary Education Act 1972 will also be applicable
. Two passport size photographs should be attached with the application to be received at the following address before 28th February 2023 Application should be sent from RPAD only Applications received after that will not be considered Application cover should indicate the ashramshala applied for in red pen More than one Applied for ashramshala
Candidates applying for the post of more than one ashram school, the candidate has to apply in different covers in all the concerned institutions. The candidate has to send the application to the office of the Tribal Development Officer Ashramshala C Block 3rd Floor Multi Storey Building Junathana Navsari 396445
. Office C Block 3rd Floor Bahu Bhadi Bhawan Junathana Navsari 396445
Important Link
Important Dates
Last Date 28th February 2023
Important Note Eligible Candidates for Recruitment of Vidya Assistant Navsari Ashramshala Before Applying Download Official Advertisement Through Below Link Do and be sure to read all the eligibility and criteria.
Application in person will not be accepted so application has to be sent through registered mail to the address mentioned above.