South Central Railway has released a notification for more than 4,100 Apprentice posts, this recruitment is recruitment with 10th pass and ITI friend, eligible and willing candidates will need to apply online before 29th January 2023..
South Central Railway has released Apprentice Big Recruitment Eligible candidates can apply online before last date of recruitment after reading official notification List of required documents are given below official notification and this article Eligible candidates before apply online all VERIFY THE DOCUMENTS When the document verification has to be done, all these documents are required to be there, only then the candidate will be recognized for the training, if any of these documents are not with the candidate, they will not be eligible for the training, which every candidate should note..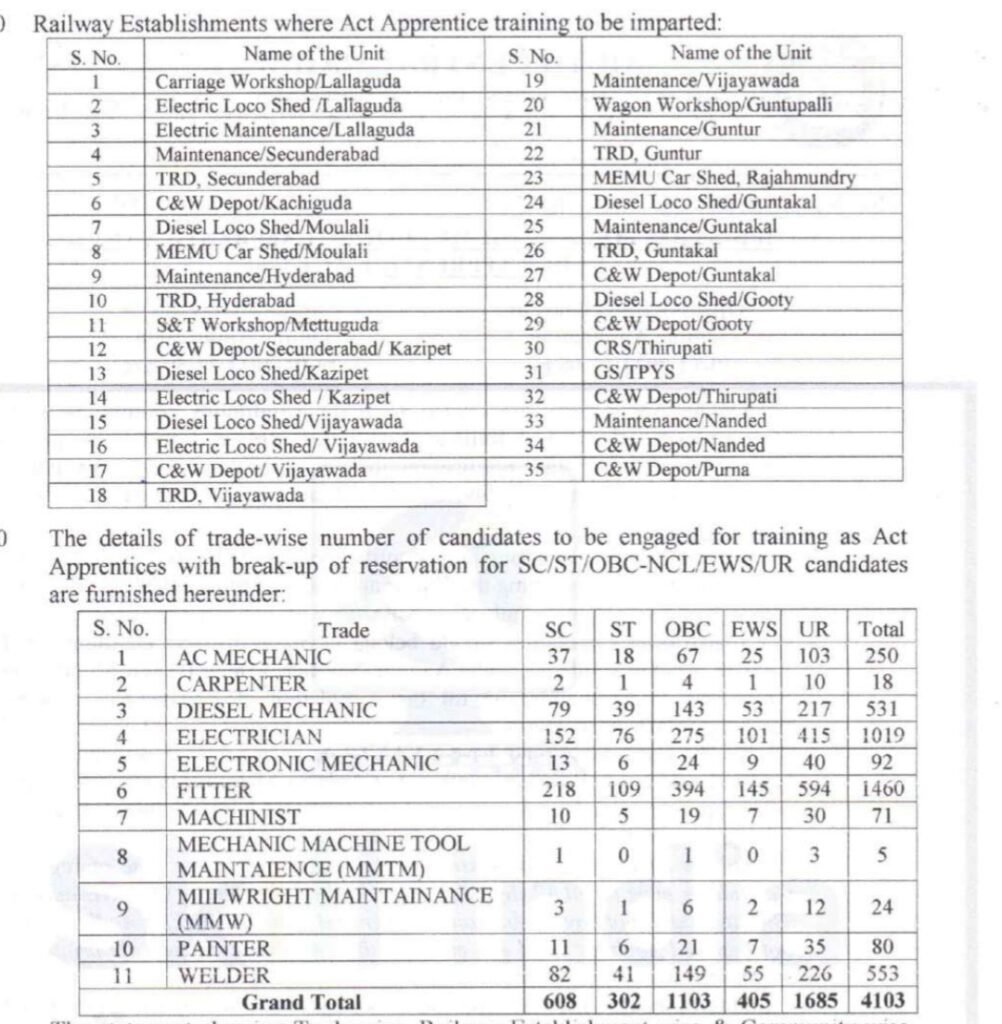 RRC South Central Railway has released the Apprentice recruitment for more than 4,100 posts, almost all the necessary information will be given to you in this article, in which you will know what is the age limit for this recruitment, what is the salary scale of the recruitment, how to apply for the recruitment online. What is the last date and how you can apply online with which documents the official notification and the website to apply online are also given in the below article so every eligible candidate must read this article till the end and share the information to all your friends. Sharing forward to.
Age limit.
Educational Qualification.
Class 10 pass with 50% plus and ITI with required trend.
last date
Required document.
One Season Marksheet of all Semesters of ITI Trend showing National Trade Certificate March of Applicable Work.
National Trade Certificate issued by NCVT or Provisional National Trade Certificate issued by NCVT AC VT.
The RDAT registration form mentions the registration number.
Community Certificate for SC ST.
Disability certificate in case of PWD candidates in case of 40% or more disability certificate in appropriate format should be uploaded..
Service certificate in cases of ex-servicemen.
important links
ઓફિસિયલ નોટિફિકેશન માટે અહીં ક્લિક કરો
રજીસ્ટ્રેશન માટે અહીં ક્લિક કરો
ઓફિસિયલ વેબસાઈટ માટે અહીં ક્લિક કરો
ખાસ નોંધ રસ ધરાવતા લાયક ઉમેદવારોએ ઉપર આપેલ ઓફિસિયલ નોટિફિકેશન ની જરૂરી સૂચના વાંચ્યા ઓનલાઇન અરજી કરવી….. દરેક લાયક ઉમેદવારોએ ઉપર આપેલ ઓફિસિયલ નોટિફિકેશન ને અવશ્ય થી વાંચવું