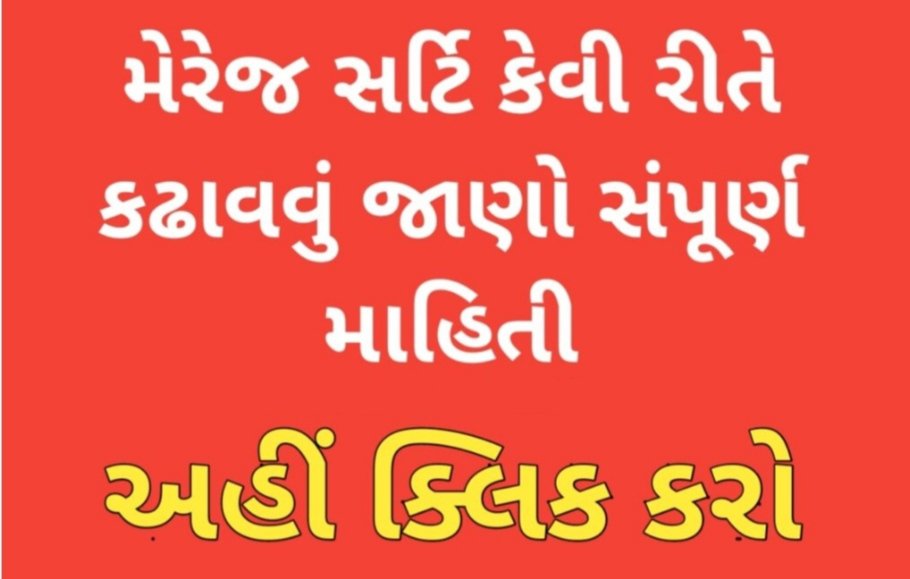 How to issue marriage certificate, how to register marriage.
લગ્ન નોંધણી કેમ કરાવવી સંપૂર્ણ માહિતી ગુજરાતી માં વાંચો. અહીં ક્લિક કરો
Friends now a days we all are unaware that marriage certificate is very important after getting married and this marriage registration certificate is very important for us as well as for every member of our family because we know that whatever we want. When traveling by air, it becomes necessary to give a certificate as husband and wife. Besides, when we send our children to study in some schools, the marriage registration certificate as the guardian of the children is also required in some schools so that we need a marriage registration certificate in many places. is happening and for our children's studies also we have to deposit this certificate in school so it is very imperative for everyone to get their marriage certificate and it is very necessary according to the time.
As mentioned above, marriage certificate is not required or necessary in every school, but in many private schools, at the time of admission of their children, they do not ask for the marriage certificate of the parents and it has to be deposited there, otherwise they do not even admit the child. It is imperative for everyone to get a marriage certificate
How to get a marriage certificate issued, how much time can it be issued, where can we get a marriage certificate, how much money it costs to get a marriage certificate etc. All the necessary things are given in this article, so every reader is kindly requested to read this article till the end and get the information. Feel free to share this information with all your friends who are newly married
Where can marriage certificate be issued?
Let every reader know that the marriage certificate comes from Talati Kram Mantri i.e. Gram Panchayat in rural areas and in urban areas we can register this marriage from the municipality and we can issue the marriage certificate.
Within what time limit should the marriage certificate be issued?
Marriage certificate is a new marriage and it is imperative to issue it within 30 days because after the 30 days time limit you have to pay a separate charge to issue the marriage certificate and within 30 days i.e. within 30 days from the date of marriage, register the marriage and issue the certificate only a fee of five rupees. have to give
What documents are required to issue a marriage certificate?
Following is the list of documents required for issuance of marriage certificate
Aadhaar card of both husband and wife

Election card of both husband and wife

Passport size photographs of both husband and wife

A wedding photo in which the husband applies vermilion to the wife or both the husband and wife wear necklaces or the husband wears the mangalsutra to the wife One of these wedding photos is required.

Xerox of husband's ration card

Living certificate of both husband and wife means school leaving certificate

Example of date of birth of both husband and wife

Two witnesses from husband's side and two witnesses from wife's side are required to be their guardians If the guardians are not present then any other two witnesses from their side must provide Aadhaar card and signature at the time of marriage registration.

Form No. 5 and Form No. 1 of Marriage Registration which will be available at that office are required to be filled.
Let every reader and friend know here that this form of marriage registration phone number five and form number 1 will be available free of charge at the municipality in urban areas and at panchayat offices in rural areas and it will be done by the competent authority.
Marriage registration fee
If the marriage is registered within 30 days of the date of marriage, a fee of Rs.5 is required and if the marriage is registered after 30 days, a fee of Rs.25 is required.
મહત્વપૂર્ણ લિંક:::
Advantages of marriage registration
As of now, the benefits of marriage registration are many, mainly, proof of marriage is the most proven marriage registration certificate, besides, marriage certificate is required while making a passport, traveling abroad, taking advantage of certain government schemes, taking advantage of certain government schemes, and taking advantage of children's admission to some private schools. Marriage certificate is required while enrolling in PAN card Aadhaar card so many places require marriage certificate so every newly and recently married couple should register marriage within 30 days summer limit and must get marriage registration certificate and people who have been married for a long time have been bound by marriage for years but do not have their marriage certificate yet they follow the given information and contact the Lagatgam Panchayat Talati Cum Mantri or if living in an urban area, contact the Municipality and they apply as mentioned above.Submit the necessary documents and get your marriage certificate if necessary.
How to issue a marriage certificate, where to issue it and what documents are required to issue a marriage certificate, all the necessary information is given in this article which is very useful. Hope this article will be very useful for all readers and friends and marriage certificate for every section of the society. Dissemination is very important so it is a humble request to share this information more and more in every group of society