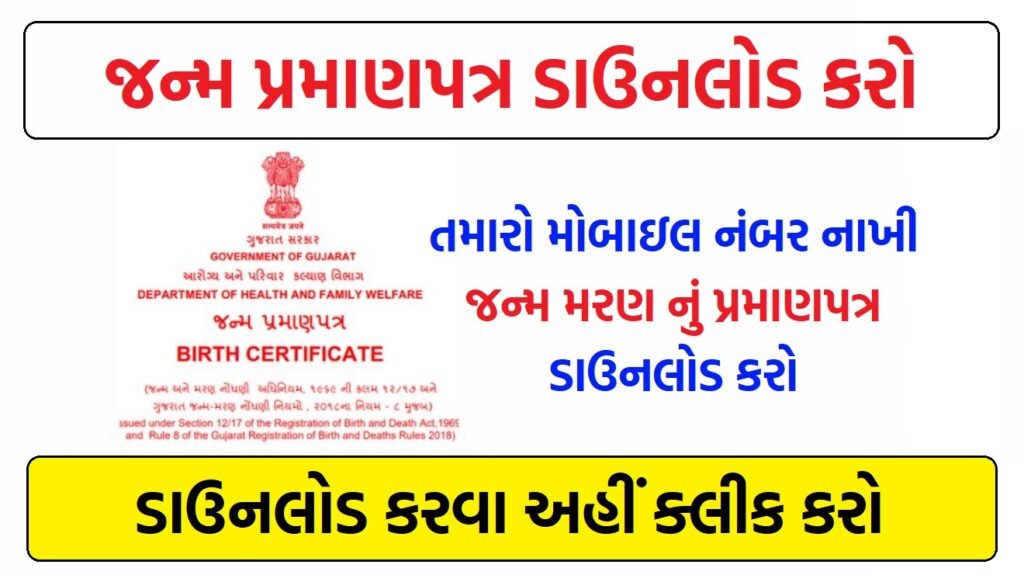 Get birth certificate online.
By the Gujarat government, citizens who are now providing all kinds of services online do not need to go to any zone or office, all the useful and necessary work can be done now through a computer or your smartphone at home. .
Get birth certificate online.
Here is the necessary information about one such necessary facility which is how to get birth certificate online at home, birth certificate is required to be registered within 21 to 30 days of the birth of the child, which certificate you need to download online. It is necessary to remember the mobile number given in the registration at the time of birth of the child or the application number. Based on which your child's online information will help you to get the certificate when you want to get online certificate you need to fill some specific details in which you need to enter application number or mobile number..
Birth certificate is a required document..
A birth certificate is an important document which after being issued at the time of a child's birth, it is required everywhere throughout the child's life as proof of support as well as while enrolling in school. Not seen because they never remove it or after removing it they do not preserve it, it is not the case now a days this pattern is very necessary for every people which even after it is lost people can get it back now a portal by Govt. e0dakh has been launched in which any citizen of Gujarat can get back the birth certificate of their children online at home by filling the necessary details by visiting the official website..
How to order online birth certificate online.
Let us tell our readers that the registered birth certificate of every citizen of Gujarat has been placed on the eOdakh portal by the government. Just fill in the necessary details and we can get the birth certificate of you and your family online at home. .
Step by step way to order birth certificate online through mobile..
Step 1 First go to official website of Govt. https://eolakh.gujarat.gov.in/
Step 2 Scroll down the page here and click on Download Online Certificate.
Step 3 Here select the birth certificate option and click on search..
Step 4 A page will open in front of you where enter your application number or mobile number whichever you remember.
Step 5 Fill all the details required to fill your personal information.
Step 6 Now click on the search button and all the details of your birth certificate will be displayed.
Step 7 Click on download button Download your birth certificate as pdf in your mobile..
Important link.
Conclusion.
Here we have come to give the necessary information on how to download the birth certificate at home through smartphone, by following the above mentioned steps you can order your birth certificate online at home. If you want more details, please comment in the comment box below, our team will solve your query as soon as possible..
Get Birth Certificate Online FAQ.
1.What is the official website to get birth certificate online.
2.What facility is available through eodakh portal.
3.Birth certificate service falls under which department.
Health and Family Welfare, Gujarat State..